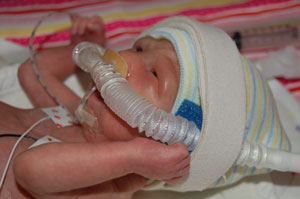 Observing nurses and RTs as they care for premature infants on CPAP is a little like watching artists in their studios. At first, you're not sure how all the scattered parts are going to fit together to make something worthwhile happen in the end.
All the tubing, fasteners, skin barriers, and prong choices can be mind-numbing. And that's before they even consider how to position the baby for the next few hours to optimize the seal (and therefore effect) and minimize the pressure on the baby's head, septum, forehead and more.
Oh, and the baby has to be comfortable with all of this apparatus or he'll struggle and thrash about, thereby negating the effect of all of the above. (That's where the ART comes in, no?)
It's a process.
But perhaps, a very worthwhile one.
We're going to learn about the evidence for CPAP in the NICU, the possible benefits of bubble CPAP and how to, as a team, collaborate to best serve the infant and family.
There's no magic bullet for making this practice successful, but there are effective strategies. We're going to discuss those. And much more.
One thing is clear- this is a team effort.
Bring your team and join us for the 2013 NANT Virtual Summit: Blowing Bubbles Helps Tiny Babies Breathe Easier presented LIVE in webinar format by Dr. Randy Grubbs with an ALL-ACCESS Q&A Panel with the presenter as well as Sue Ludwig OTR/L and Sandy McClanahan RRT, CPFT.
Personally, I can't believe the positive changes we've seen since instituting bubble CPAP over a decade ago. What about you?
Let's talk about it next week!
Click here to register now. I can't wait to learn along with you!